Khatam - Emiway Lyrics
Khatam Lyrics
- Sung by Emiway Bantai, composed by Bass Mutants, lyrics by Emiway Bantai. Get latest Hindi song lyrics at Movielyricsworld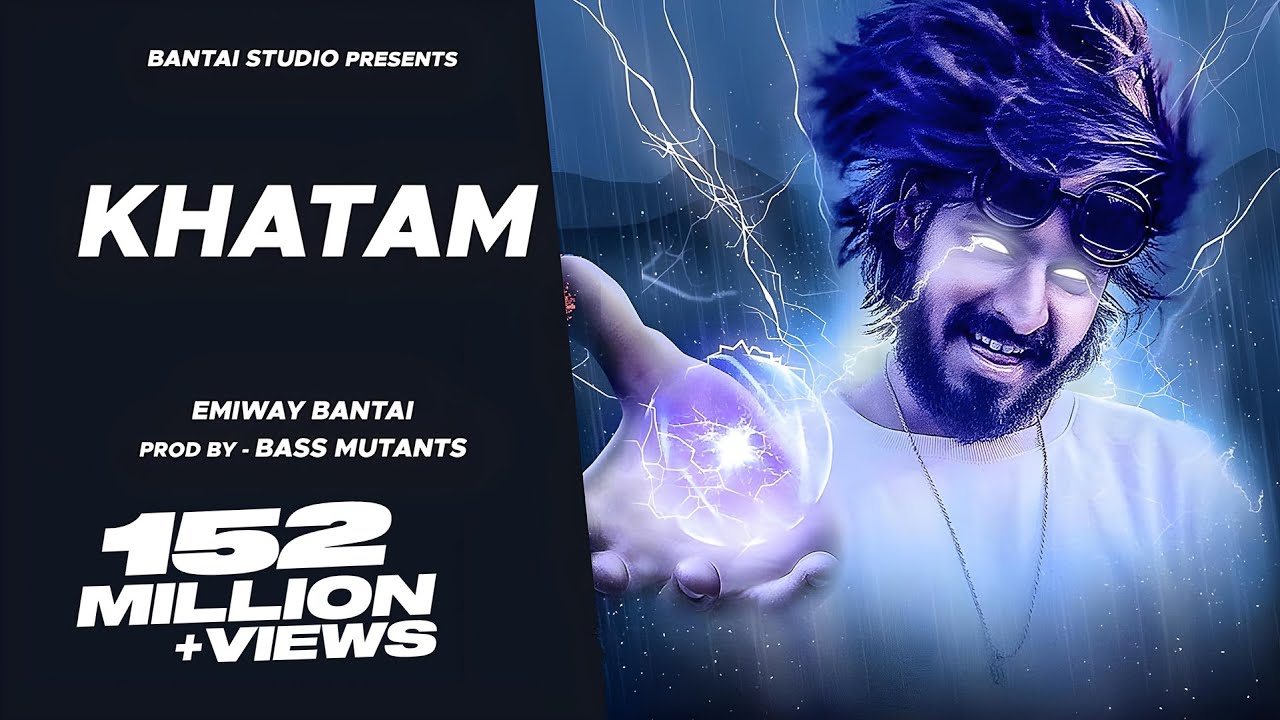 | | |
| --- | --- |
| Singer | Emiway |
| Music | Bass Mutants |
| Song Writer | Emiway |
KHATAM SONG LYRICS – EMIWAY BANTAI
Ae khatam nahi hua chu***

Ae waddup waddup
Kya boltey sablog Emiway Bantai
Maalum hai naa?
Nahi malum hai to sun

Kya bola tu?
Emiway ka scene change kar dunga
Bhagwaan hai kya bey
Maine jo bhi kiya hai naa
Khud se kiya hai
Or kya bolta hai?
Main rough copy karta hoon
Abe main inspiration leta hoon
In sab logo se
Eminem, Rush sab artist ko dekhta hoon
Tere jaise nalle pav ko dekh Ke nahi sikhta hoon main
Or bolta hai Raftaar ko pahle sunta tha
Abe line samaj meri jaan
2014 mein hi tere ko Dis kar diya tha main
Kyunki tu bohot nakli ban rha tha tabhi se

Sun!
Main waapas aagya tu fir se darega
Dis tera flop hua ab kya karega
Main pahle se famous tha shaane
Tu kya mera chotte scene change karega
Tu bas bada dikhaana chahta hai
Hum jaiso ko tu dabaana chaahta hai
Lekin mere pass tere liye bohot sara sachai hai
Upar se shabdo ka chata hai
Phaaat!
Hahahaha

Band kitaab ho aaj bhi raaz main
Bezati karun main teri
Wo bhi ek saans mein

Mere laalaa
Mere laalaa
Maine dala tu nikaala
Mere wajah se tere pe
Girelaa hai ye ujaala
Maara tala
Mera chotu-motu
Baby baba wala
Main hoon jwaala
Maine godi mein Raftaar uchaala
Kai jhala me bhidai la ektaac aala

Akelaa maine pura scene bana daala
Tere jaise chane ko sane bana daala
Hip hop mein aarha tha bhag-bhagaa daala
Raftaar ke Bantai ne et bhagaa daala
Hip hop mein aarha tha bhag-bhagaa daala
Raftaar ke Bantai ne et bhagaa daala
Hip hop mein aarha tha bhag

Main mobile ka jamaana or tu pager hai
Tu nalla pav Bantai bahot danger hai
Tune bola tune mera kam banaaya
Ye bata kya Raftaar mera manager hai

Tune mujhe Manj Musik se milaaya
Par wajaah beta kuch or tha
Bharosa nahi hota to chhote
Paaji se puch le "Pegg gaana unka samne se call tha"
Label se aarha mera gaana teri jalli-jalli
Khus hoon main tujhe dekh ke karoon main khali bali
Aagey chala gaya main
Tu khada wahi-wahi
Janta bhi jaanti hai
Raftaar ab sahi nahi
Tere pass kuch bolne ko hai hi nahi
To mere career ka strugle dikha raha hai
Kal waha tha aaj dekh main kahan par hoon
Emiway-Emiway har jagah chaa raha hai
Haan, Pahle nahi hote the paise
Haan, Paidaa nhi hua thaa m raper
Haan, Sab kuch main sikhta hoon aaya
Aaj bhi main sikh hi raha hoon yahan par
Pahle 1 Sal mein aate the 100 views
Aaj 1 din mein 2 milion paar hai
Tu toh ashleel gaane banaata tha
Condom or Gadbad
Aab kya vichar hai
Hahaahaa

Khokhe mein kamaata bhai tu
Lekin main kya karunga pata hai
Main-Main chillar utha Ke Pilar bana dunga
Har ek gaana mera killer bana dunga
Jyada jalunga to khud ko jala dunga
Competition na kar fat se hara dunga
(Fat se hara dunnga)
(Main fat se hara dunga)

Sun!
Tezi mein gaata Raftaar
Usse sun ke hua main taiyar
Angreji mein tezi se gaun aab
Sab ko sunaaun dekh meri Raftaar
Line sun beta dhayaan se
Jo bhi atkelaa nikaal beta kaan se
Maine kaha tujhe sun ke main hua taiyaar
Yeh bataane Raftaar main tez hoon tufaan se
Kya?

Mangalyan tantunanena bhavajeevan dedooona
Rapping mein jo bhi aade fata fatke main de doon na
Hahahaa..

Naya gaana leke aaya hoon main le sun
Khaana khaye bina khaata main Medicine
Mere rashte ke beech mein jo aadchan bane
To kal ke NewsPaper mein
Mission wali khabar chapegi teri
Teri saari cheeje meri
Mere gaane sun ke log bolenge
Kuch toh sikho mujhse
Mujhse kya matlab hai tera
Ek laafe pe sidha bahraa
Phatttt

Jab padegi teri fat ke haath mein
Bina bole kuch tujhe karoon barbaad main
Bad mein saath mein tujhko bitha ke
Jo bhi gilaa shikwaa hai usko mitaa ke
Hata ke tere kaano ke pardo pe chikhun main
Haaa…

KHATAM!
khatam lyrics,